Welcome to My CLINT Section!
Please choose from the menues on the left to see vintage photos
from my Batman days and other modeling jobs I did in the 80's & 90's.
I've also included other fun things that I have done and still enjoy doing.

Below is a story called EASTER 1966.

It tells how the Batman tv series changed my life and talks about my
years as a professional Adam West Batman look-a-like and how I toured
with the ORIGINAL Batmobile.

Enjoy the artical and all the photos!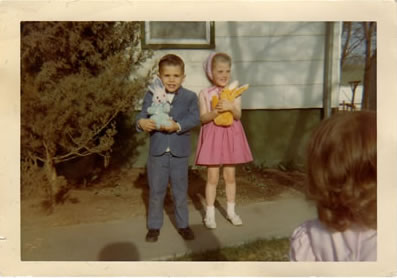 EASTER 1966
Batmania was already in full swing and I of course was already hooked on the Batman tv series.
Little did I know at the time this photo was taken that I would grow up to become Batman.
In fact, it would be exactly 20 years from this Easter day that I would become a professional Batman and go on tour with the Original Batmobiles from the show.
I was four years old when this picture was taken in 1966 and I thought the Batman tv series was
the greatest show on Earth, especially that super cool, futuristic looking Batmobile!
In fact, Batman premiered for the first time on my birthday which was January 12th.
The Batman tv series and I were actually born on the same day!
I guess it was ment to be that I would become Batman one day when I grew up.
If that wasn't a sign of what was to come then I don't know what is.

At that time in 1966 my only dream was to see the Batmobile in person and to be able to sit behind the wheel of that wonderful car. For the next 20 years that was all I thought about.
Even during my entire time in school, from 1st grade all the way to the 12th grade, I never stoped dreaming about one day seeing the Batmobile in person.
I had no idea I would surpass this little dream of mine a thousand times over in just a few short years. Or that I would go down a path that would change my live forever!
Not only would I finally get to see all of the Batmobiles, but I would eventually be driving them,
wearing the costumes, hanging out with the original cast and crew, touring all over as a professional batman and signing autographs by the thousands. It was the wildest time in my life and it felt sort of like living the life of a rockstar!

Just think, all I wanted to do was see the original Batmobile in person. Now I was driving 3 of them, hanging out with Adam West (Batman), Burt Ward (Robin),Yvonne Craig (Batgirl) and the
rest of the cast from the tv series including Julie Newmar (Catwoman) and Frank Gorshin who played the Riddler. These were just a few of the many stars from the hit tv series that I got to meet.

If I could have only known as a boy that I would one day be sitting around talking to all these people I liked so much from that hugely successful tv show I don't think I could have waited to grow up. After all, when your a kid 20 years seems like a very long time.

However, those 20 years would be well worth the wait indeed as I would do things, go places and hang out with celebrities that most people only dream of and wish they could do.

Being able to become a professional Batman and driving the original Batmobiles and signing autographs and hanging out with the original cast and being able to make so many people happy while at the same time making their dreams come true by being there in full costume for the adults and their kids to see is just something you cannot describe.
So many people young and old from the littlest of kids to the oldest of elders love the 1966 version of Batman and his Batmobile.
To be able to be a part of fullfilling all those peoples dreams like I did and seeing the thousands upon thousands of smiles I put on their faces from city to city like I do is just priceless.
No amount of money could replace all the joy I gave all those people during all those years I toured as the Adam West version of Batman. It's a time in my life I would never take back for anything because it made me just as happy as I made all of them and I will always remember that.

Yep, alot has changed since this photo was taken that Easter day in 1966 and I can't help but wonder if I was thinking of Batman & the Batmobile at that very moment the cammera shutter clicked and froze me in time forever.
It will be 40 years next Easter in 2006 since this photo was taken. It will also be 40 years since
the Batman tv series premiered on television and changed my life forever.
During those 40 years I spent the first 20 years dreaming of seeing the Batmobile and meeting Batman. I then spent the next 20 years knowing the real Batman, driving, touring and playing with the original Batmobiles.
Then as if that wasn't enough, I would eventually own my very own replica of the most famous car on the planet!

So next year on January 12th, 2006 (which is my birthday) when the Batman television series
celebrates it's 40th anniversary I will also be sharing and celebrating the same 40th anniversary as Adam West and the tv series do. Because 40 years ago, on that night of January 12th,1966 when I turned 4 years old and the tv series premiered for the first time, I became a fan of the show and was on my way to becomming a fan for life.

And to think, all I wanted to do was see the Batmobile in person one day.

Clint Young
www.cyproductions.com


Enjoy!